League Of St. Maur
The League of St. Maur is a private membership providing ongoing support to further the mission of Maur Hill - Mount Academy. Founded by Fr. Edwin Watson, OSB, in 1965, the League fizzled out in the 1990s. President Phil Baniewicz brought it back to life in 2010, and it continues to grow to this day.
Any individual or married couple is eligible to join the League of St. Maur and can join annually at one of five levels: Platinum ($5,000), Gold ($2,500), or Silver ($1,000), and now two new entry levels: Copper ($500) and Jr. Raven/young professional ($250). The elite annual giving level is the President's Circle at $10,000 and above. New members are being added regularly to these essential groups that set the foundation for the ongoing success of MH - MA. If you haven't joined, there has never been a better time. Learn more. The League also holds an annual event honoring school supporters with the Fidelis Award.
Become a Member of the League of St. Maur
Join Us for a Very Special Night
Saturday, September 10, 2022
Kansas City Airport Marriott Hotel
775 Brasilia Ave.
Kansas City, MO 64153
Join us in person for the annual League of St. Maur Dinner as we gather at the Kansas City Airport Marriott Hotel to celebrate and honor special people who have made a lasting impact on Maur Hill - Mount Academy. Plan on a festive night that no one will soon forget! Whether you are a member or not, you are invited to join us for the League of St. Maur dinner while seats are still available.
Schedule of Events
4:00 p.m. - Mass
5:00 p.m. - Sponsored cocktail hour & silent auction
6:15 p.m. - Dinner and program
Cocktail attire requested. Black tie optional.
Planning to stay the night at the Airport Marriott? Mention you're with Maur Hill - Mount Academy for a special rate!
The following is a list of collapsible links. After selecting the link, additional content will expand. Arrow down to read the additional content.
Fidelis Award
Richard and Ginger Hunninghake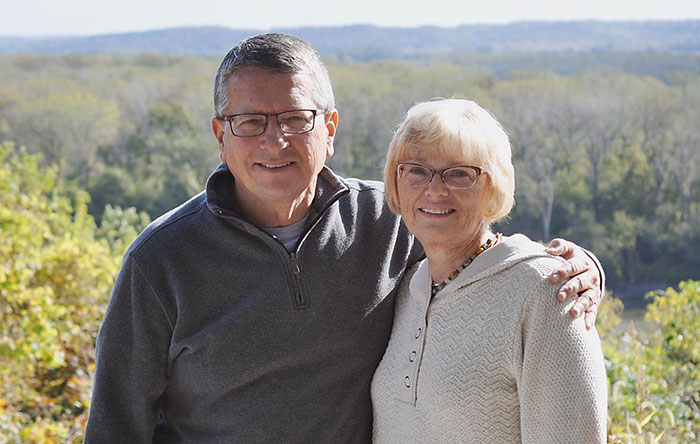 Alumni of the Year
Theresa Worman '89